The ConnecTra Society is a non-profit connecting agency, linking people with physical disabilities to activities, services, and programs to be more active and involved in community life.
We aim to get all people with significant disabilities living in the Lower Mainland as socially active and involved as possible through our workshops and other resources.
The society was formed in 1999 by Vancouver tetraplegic Sam Sullivan who was invested as a member of the Order of Canada in 2005 for his service to people with disabilities.
---
Affiliated societies:
British Columbia Mobility Opportunities Society

Provides opportunities for people with physical disabilities to explore the outdoors centered on the TrailRider, a unique single-wheel, remote access wheelchair and also through paddling.
ConnecTra Society
Enables individuals to become more involved in their community by taking advantage of employment, training and social opportunities.
Disabled Independent Gardeners Association
Provides the opportunity to become involved in gardening, a recreational activity that can enable participants to develop skills, build self-confidence, learn and grow.
Disabled Sailing Association (DSA)
Promotes freedom and independence through participation in an exciting and challenging sport. DSA uses the specially designed adaptive Martin-16 sailboat, which allows joystick or (mouth-operated) sip 'n' puff control. DSA also operates a boat donation program and a site detailing the history of the Mobility Cup regatta.
Tetra Society of North America
Recruits volunteer engineers to design and construct customized assistive devices for people with significant physical disabilities. Volunteers work one-on-one with people with specific needs that cannot be met by commercial assistive devices.
Vancouver Adapted Music Society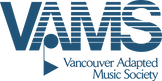 Works with musicians of all levels of ability, with its own fully-equipped, fully-accessible recording studio. The society also promotes more accomplished musicians through its website, by arranging performance opportunities, staging concerts and through releases.